Velocity®
Multi-Purpose
Interior Wood
Screws
SHOP OUR

INTERIOR HARDWARE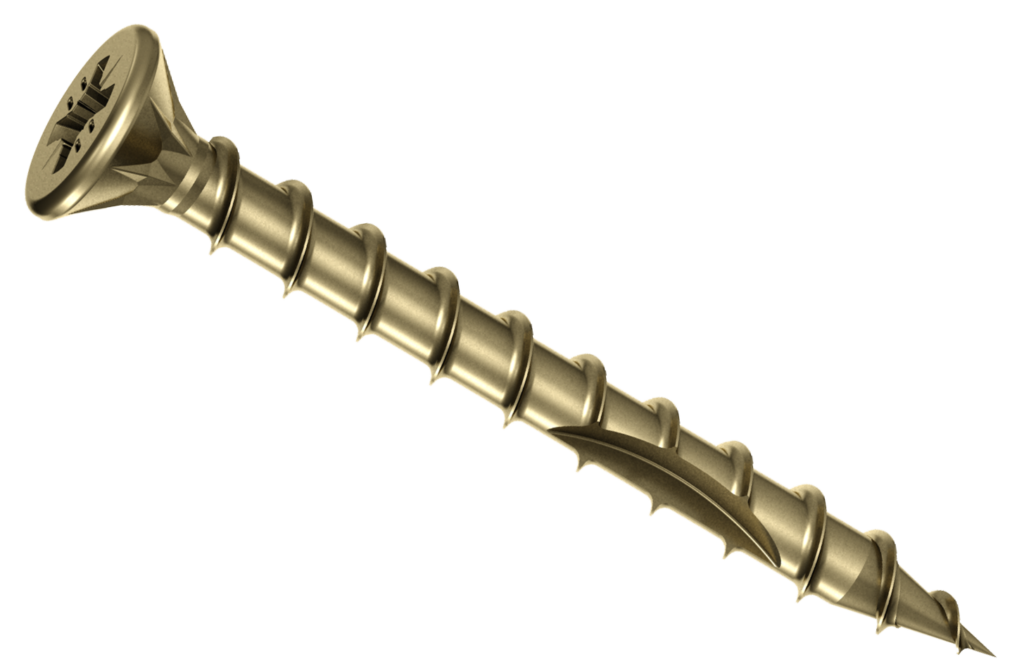 VELOCITY®
LOW-ENERGY THREADS
Our patented Low-Energy threads are the fastest driving threads on the market. Test proves that our fasteners start and drive up to 40% faster than the competition. Low-Energy threads also help to preserve battery life allowing you to drive more screws per charge. When you want the best in construction materials look to Velocity® .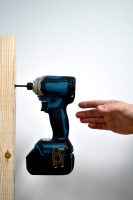 VELOCITY®
PATENTED STICK-TIGHT® TECHNOLOGY
For One-Handed Anti-Wobble Installation
Stick-Tight® is a patented drive system featuring Phillips Square-Driv®. Stick-Tight® allows for 1-handed anti-wobble installation. No longer do you need two hands and an elbow to install screws on a vertical surface! Backwards compatible with Phillips and square drive.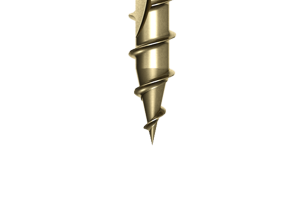 VELOCITY®
SUPER SHARP INSTANT-START TIP
The super sharp point helps ensure that each screw grabs instantly allowing for instant starting, saving you time.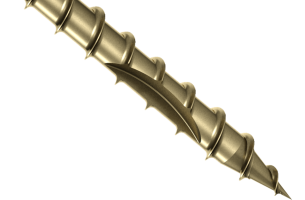 VELOCITY®
SLOTTED SHANK REDUCES SPLITTING
Other screw manufacturers place a slot on the shank of the shaft near the tip of the screw. While it helps to reduce splitting placing at the tip, causes it to spin before catching, slowing up the start and drive times. We solve this by moving the slot slightly up the shaft. This way we are able to still help you reduce splitting while at the same time ensuring fast starting and insertion speeds.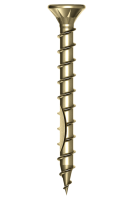 VELOCITY®
UNDER HEAD RIBS FOR PERFECT COUNTER SINKING
Both our Deck Screws and our Wood Screws feature ribs under the head to allow the screw to perfectly seat giving you a clean professional installed look.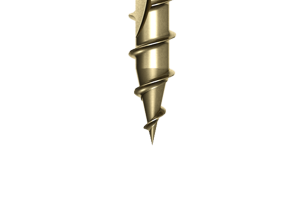 VELOCITY®
THREADS ROLLED TO THE TIP FOR INSTANT STARTS
We roll the threads all the way to the tip on every screw we produce so that it bites instantly. Instant biting means instants starting which helps speed things up!
Always Delivering

Quality Products
CONTRACTOR SCREW PACKS – LARGE PACKS FOR LARGE JOBS!
ASSORTMENT & MINI ASSORTMENT KITS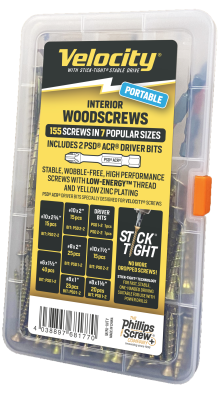 #6 x 1-1/2″ 40 Pieces
#8 x 1″ 25 Pieces
#8 x 1-1/8″ 25 Pieces
#8 x 2″ 25 Pieces
#10 x 1-1/2″ 15 Pieces
#10 x 2″ 15 Pieces
#10 x 2-3/4″ 15 Pieces
Includes 2 Driver Bits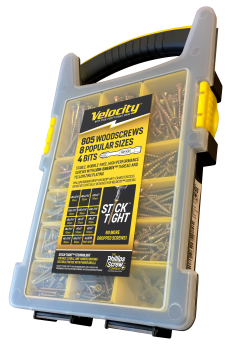 #10 x 2-3/4″ – 100 pcs
#10 x 2″ – 60 pcs
#10 x 1-1/2″ – 90 pcs
#8 x 1-1/8″ – 65 pcs
#8 x 2″ – 75 pcs
#8 x 1-1/8″ 65 pcs
#8 x 1″ – 200 pcs
#6 x 1-1/2″ – 160 pcs
Includes 4 Driver Bits
THE VELOCITY™ INTERIOR

WOOD SCREW DIFFERENCE